Sally Ride EarthKAM Help
Welcome to Sally Ride EarthKAM Help. Look here for answers to your questions about the program, registration, signing up for missions, requesting images, and retrieving the images you've requested. We also have a variety of downloadable guides to assist you.
Getting Started
Getting started with Sally Ride EarthKAM is easy.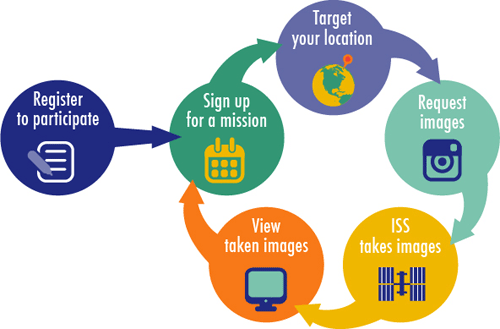 Sign Up for a Mission

Once your registration for Sally Ride EarthKAM has been approved, you can sign up to participate in any of the missions.

Target Your Location

During missions that you've signed up for, you and your students will log in to the

Mission

area.

Request Images

After students identify targets, they can make image requests.

ISS Takes Images

Image requests are sent to the International Space Station to be taken by the Sally Ride EarthKAM Camera.

View Taken Images

After the images are taken from aboard the International Space Station, the files are transmitted back to Sally Ride EarthKAM, where students will receive their images.
---
Frequently Asked Questions
If you have a question that isn't answered below, please
contact us
.
Depending on how the images are used, Sally Ride EarthKAM can provide support in teaching Earth science, space science, environmental science, geography, social studies, mathematics, communications, and art. For lesson ideas, visit the activities section of the website.
To participate in Sally Ride EarthKAM, begin by registering on the Sally Ride EarthKAM website. Once your registration has been reviewed and approved, you will receive an email with login information for your Teacher account and Mission account. First log in to your Teacher account. There you can sign up to participate in upcoming Sally Ride EarthKAM missions. Once you are signed up for a mission, log in to your Mission account to begin capturing images.
Educators, educational institutions, and students may participate. Sally Ride EarthKAM is intended for middle school students; however, all ages are welcome.
Only teachers or other education leaders can sign up for Sally Ride EarthKAM. However, we encourage you to tell your teacher or your child's teacher about Sally Ride EarthKAM and get them involved!
There are still many ways to enjoy the Sally Ride EarthKAM program. Follow us on Facebook and Twitter for mission updates. The Sally Ride EarthKAM website, earthkam.ucsd.edu, is full of news updates and information. Furthermore, you will still have access to the full gallery of Sally Ride EarthKAM images.
No. Participation in the Sally Ride EarthKAM program is always free of charge. It only requires your time.
Yes. Schools that participate multiple times will be asked to submit samples of student work and complete an online evaluation form once a year.
Please send us an email letting us know of the change.
Once you are registered, we will email you a login and password for both your Teacher and Mission accounts. Both the login and the password are case-sensitive.
Each educator is given a Teacher login to administer her or his account, as well as a Mission login for students to request images.
Students will use the Mission account to make image requests during the mission using the codewords provided to their sponsoring teacher. Participants are also able to view their images and the status of pending image requests through the Mission account.

Teachers can use the Teacher account to sign up for the current mission, view account information, and fill out the mission profile.
Please log in to your Teacher account and click on Your Profile. Next, click on Edit Profile to view your Mission account username and reset your Mission account password.
Please go to the homepage (https://www.earthkam.org) and click on the Forgot Your Password link under the Teacher and Mission Login area on the right-hand side of the screen. This will give you a one-time-use temporary password that will allow you to log in and change your password.

Log in with your assigned temporary password and click on the Your Profile icon. Then click Edit Profile to change your password.

If this does not work, let us know and we will be glad to assist you. Please keep in mind that passwords are case-sensitive
We recommend you download the Sally Ride EarthKAM User Guide located on the Help page for information on making Sally Ride EarthKAM image requests.
MOC stands for Mission Operations Center—the physical setup in which your students can target, request, and retrieve images. To access the Mission Operations Center, log in to your Mission account.
Use the resources in the Activities section of our website.

The mission name signifies the month and year when the mission occurred. For example, iss10_07 was a mission from the International Space Station during July (07) 2010.
The deadlines are given in GMT (Greenwich Mean Time). You can view the current GMT time here.
The deadlines, given in GMT, are listed under the Status tab within the MOC pages. Submit your image requests before the deadline for each orbit.
First try refreshing the map using the "Reset map" link above the map. If that doesn't work, you will need to adjust the settings on your Web browser so that your computer will display all content on the Sally Ride EarthKAM website. This is because Sally Ride EarthKAM uses Google maps to support targeting. This application comes from an "http" source. Because you've logged into our secure ("https") Sally Ride EarthKAM website, this sometimes causes Web browsers to not display the content properly. Please refer to your browser's help pages to learn how to allow insecure ("http") content to display on a secure ("https") site.
For a step-by-step walk-through of the image-requesting process, please refer to the Help section in the MOC pages. You can also refer to the Sally Ride EarthKAM User Guide.
A codeword is what you use to request an image, using one codeword per image. You can use the codeword later to retrieve your image. All codewords are case-sensitive.
Codewords are used on the Image Request page to request images.
Codewords are emailed after your request for participation has been approved. If you have not received your codewords, please check the spam folder in your email account.
We initially email every school 200 codewords. If you have used all of your codewords and would like to request more, please contact us. (Please note that additional codewords are not always available.)
No. One codeword is used for each image request.
To obtain more codewords, contact us. Provide us with your Mission account username and the number of codewords you would like to receive.
No. Codewords may only be used during the mission for which they are issued.
Once you have logged in to your Mission account and clicked on the Image List tab, you can look up the image you requested using the codeword you originally used to make the request, or you can search by school.
Yes, your image request may have one of the following statuses.


Submitted – UCSD has received this image request.
Locked CCFed – This image request has been included in the camera control files.
Locked Uplinked – The camera control file that includes the image request has been uplinked to the ISS.
Taken - This image has been taken and is available for viewing.
Rejected - This image selection contained incorrect information (e.g. UTC did not match latitude/longitude or the request was made during nighttime).
Your image request may be rejected because it was submitted after the deadline or contained incorrect information.
Yes. There are situations, technical and otherwise, that could prevent us from capturing your image.
You may submit as many requests as you have codewords, making one request per codeword. If you have used all of your codewords and would like to request more, please contact us. (Please note that additional codewords are not always available.)
On the Image List page, change the drop-down menu to the mission you wish to search. From there you can search by codeword or your school.
The camera can capture images about 50° to 55° north or south of the equator.
The camera can capture up to one image every 10 seconds.
Yes. The Sally Ride EarthKAM Image Gallery archives images from every mission and every school. Your school and the general public can access all images taken through the Sally Ride EarthKAM program on this portion of the site.
Guides
Read these guides to using the Sally Ride EarthKAM system:
---
Educator Resources
Here is a helpful document for students to fill out while using the Sally Ride EarthKAM system:
---
Standards for Teachers
Sally Ride EarthKAM supports many of the National Science Education Teaching Standards:
---
Standards for Students
The Sally Ride EarthKAM program satisfies national educational standards in many academic disciplines: